What does Developer Experience mean to you? How would you explain it to someone who doesn't work in tech? This has always been something that I have found a challenge during my career as a Developer Experience Engineer - as it can mean something so different across different companies, or even across different teams within the same company!
Tech is such a broad and diverse industry, so if DevEx is something you're interested in I would highly suggest doing some research! A good place to start would be DevX where you can find some great links to podcasts, blogs, articles, events and more.
What does Developer Experience mean to me?

I am very passionate about DX, and to me it simply means to provide a great experience to developers. That could literally mean within development - their tools, processes and technology. But it can also be within other areas that improve the happiness of a developer, such as training, engagement, mentoring, informing, incentivising, progressing, supporting - I could go on!

---
I joined OVO at the beginning of January in the Developer Services team - and we are relatively early on in our DevEx journey. Building something great takes time, and being part of a team that is still shaping its ways of working, values and goals is very exciting! I bring with me my own experiences and opinions but also a willingness to learn and grow with my team in our own way.

Putting certain processes/practises into place and seeing them work successfully will be trial and error, and the results won't be instant. Laying the foundations, finding the right people and communicating the mission are all important parts of what will eventually lead to a successful Developer Experience team.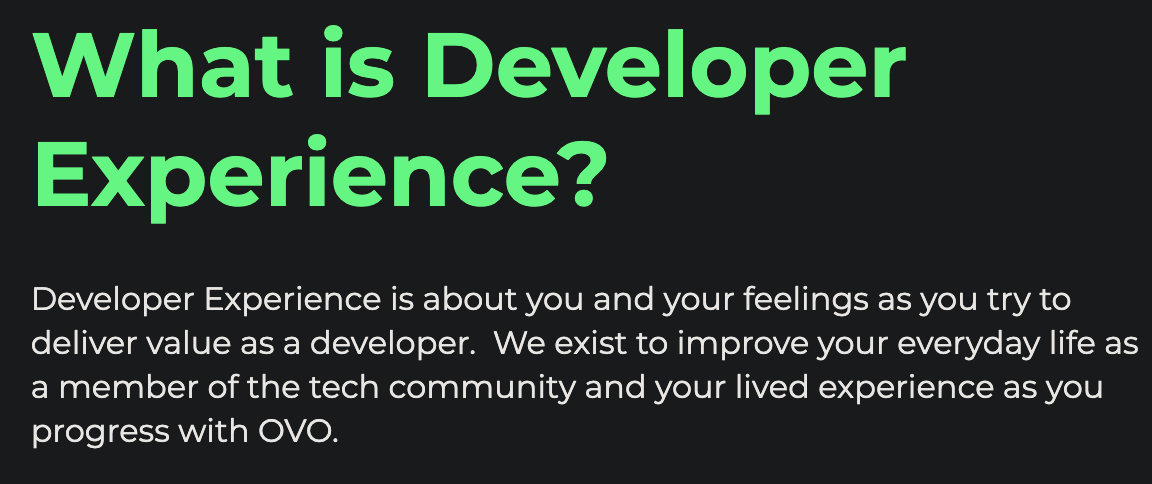 We believe you show up to build the best software possible every day, but friction and waste slows you down. The "you build it, you run it" ethos is easy to understand, but harder in practice.
How will we make DevEx at OVO successful?

Surveys 📝
I am a great believer in making data driven decisions. But collecting data and then figuring out how to use it can be a challenge, so we will approach this is a few different ways.
Using DX software, we send out quarterly surveys to all OVO engineers. The questions are carefully curated with pre-set 'drivers' which help us to collate the results and extract data in the form of insights. We use the results to publish a concise report which is shared org wide. We can then work closely with leadership to make decisions on how best to support teams moving forward.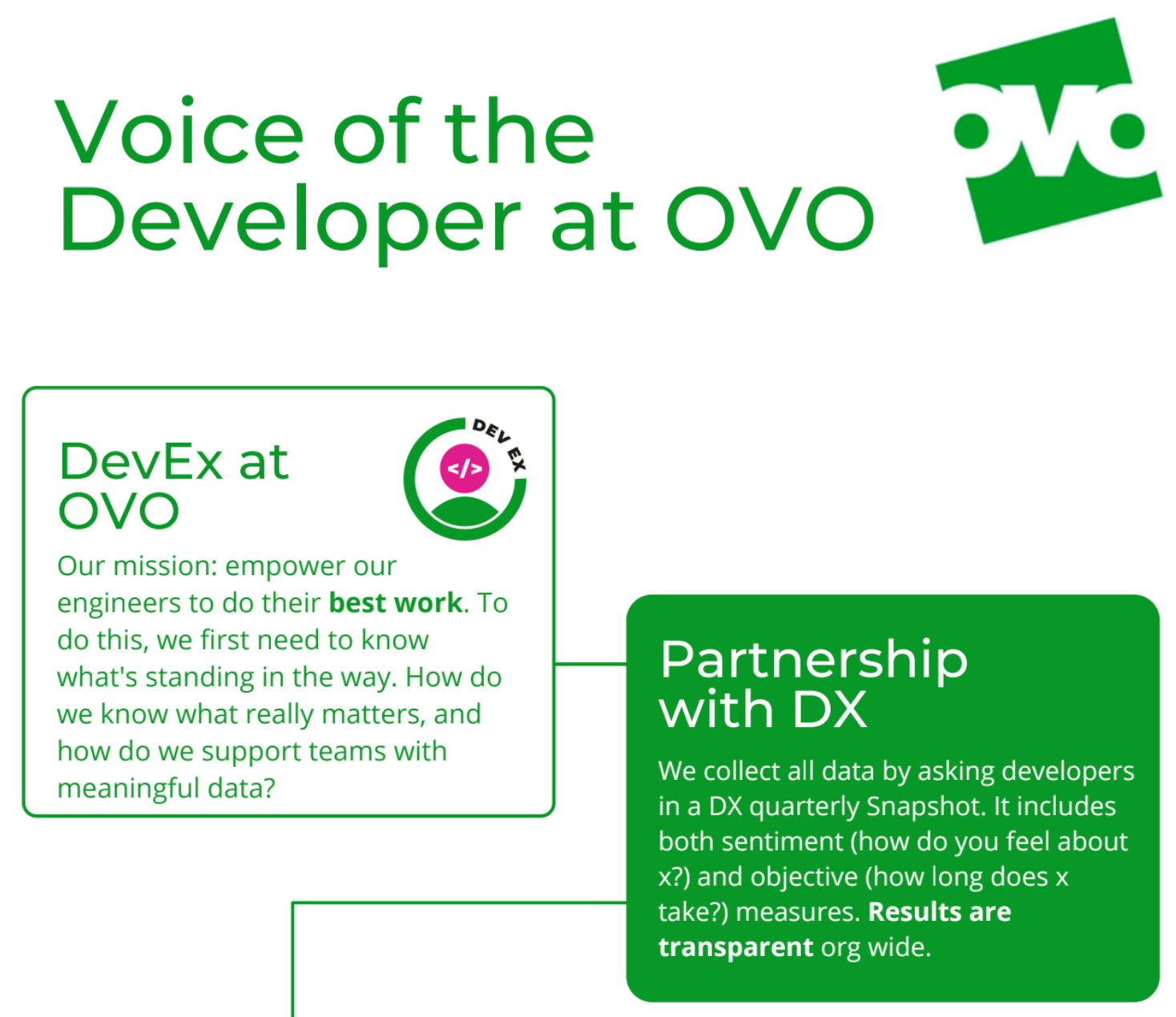 Training 🧑‍🏫
Learning is such an important part of working in tech. We need to always be growing and improving our skills at every level.
In Developer Experience we maintain close relationships with our product suppliers such as AWS and GCP to organise workshops, game days, hackathons, office hours, AMA sessions and learning paths open for all people in tech at OVO.
We will always strive to explore more opportunities to help our engineers thrive, we will support knowledge sharing, mentoring and other internal initiatives which will help to open the door to tech at OVO for anyone.

Engagement 🗣
In my opinion, engagement is one of the most important aspects of Developer Experience. If people don't know who we are, what we are doing and how to get involved - then it would be really difficult for us to do our jobs!
Building strong relationships with the engineering teams within OVO is at the forefront of what we do, talking to them, listening to them and collaborating with them.
We will be looking more at how we engage internally, and have a bigger presence across the business. DevEx will have a permanent feature as part of the internal monthly tech newsletter so that we can keep people regularly updated on what we are working on and we will contribute as much as we can to 'show and tell' sessions and other company wide demos. We also have plans to eventually rollout a podcast, and push engagement with the OVO tech blog! The more we engage with our people, talk and listen to them, will help to promote a positive working culture at OVO.

External engagement is also very important, how we are perceived in the wider tech community can have a huge impact on things such as hiring, and can have a positive impact on the reputation of the business as a whole. Partnering with other companies or social causes will help us to raise awareness of OVO as a great company to work with and also help to promote our Plan Zero mission.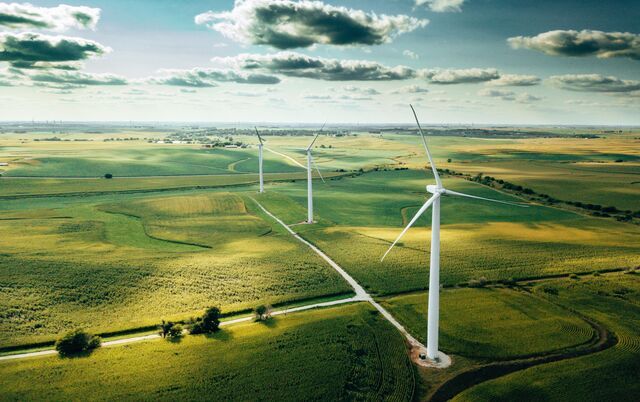 Events 🎉
External engagement mostly comes in the form of events. We want to see OVO's name out there in the tech world as a forward thinking and supportive place to work.
We are currently having conversations with various organisations to plan an events schedule both internal and external. Things such as tech meet-ups and conferences will give our engineers the opportunity to use their voice and speak about the amazing things they are working on, but to also hear what others are doing and be exposed to new technologies and ways of doing things.
Keeping our engineers engaged in the community will help them to feel fulfilled in their role but will also open up OVO to be involved in other exciting opportunities.

Tooling 🛠
Part of the experience developers have at work comes down to the tools they use. Therefore it makes sense for the DevEx team to always be evaluating and promoting the tools we have available.
One example of this would be our adoption of Spotify's open-source developer portal Backstage, with the aim to help teams manage and maintain the software, services or libraries they own and make them discoverable for everyone. We are in the early stages but are very excited about the potential this tool has, and how we can make it work for us and ultimately help to reduce the cognitive load of our engineers.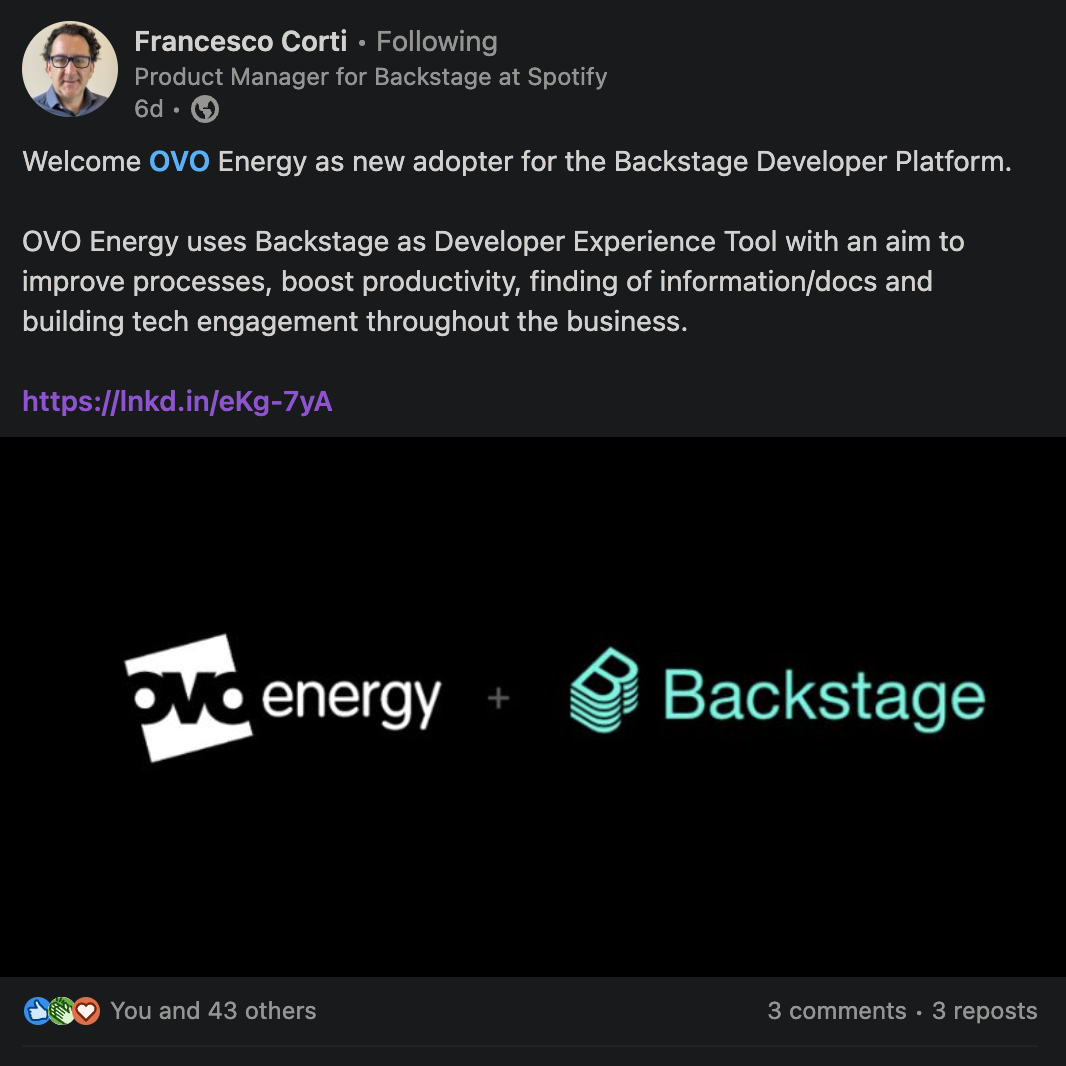 Guidance 📚
Along with the tools developers use, we are also here to provide  guidance and guardrails, engaging with teams and collaborating to develop best practices and identifying challenges to remove roadblocks.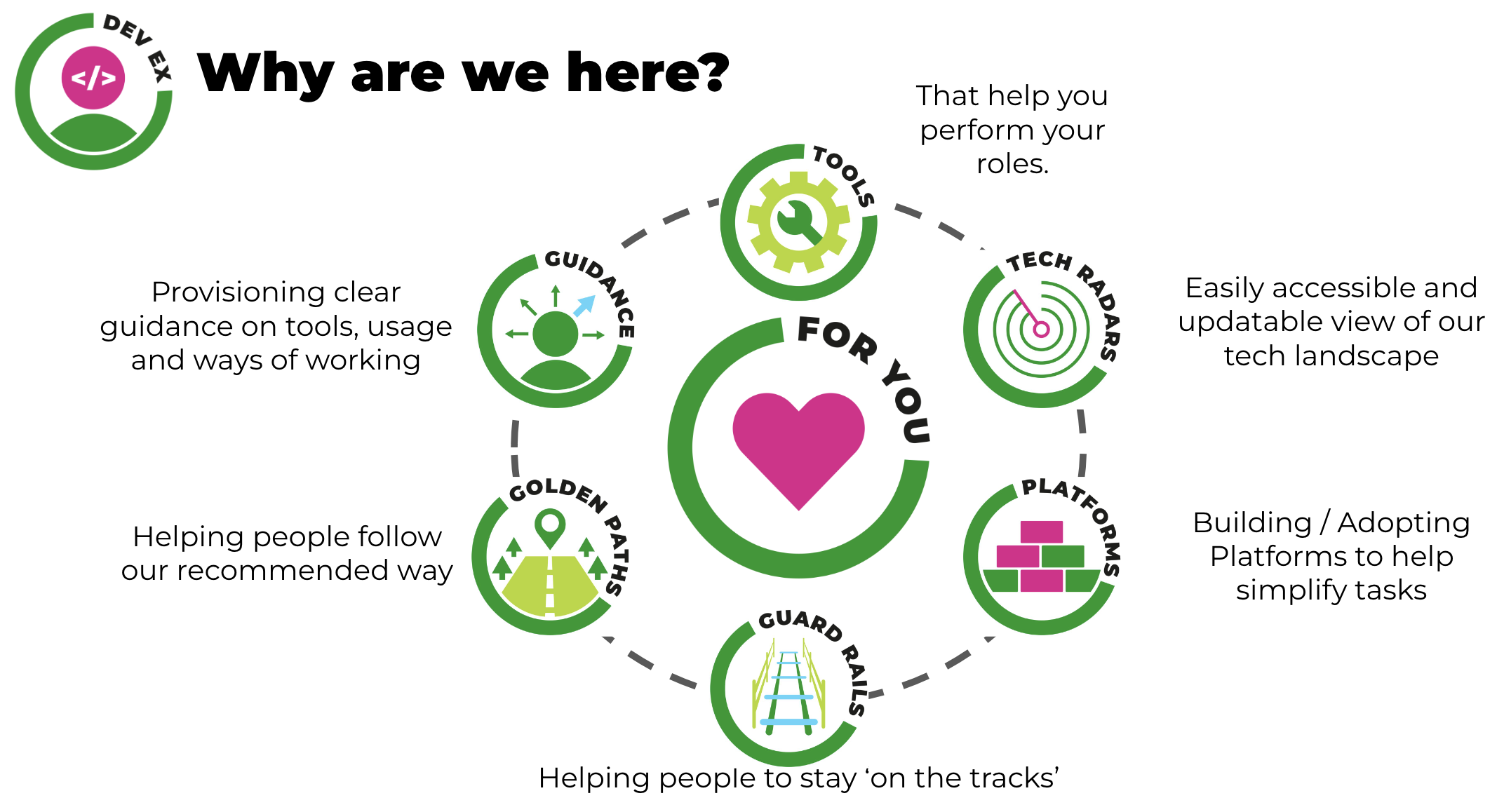 Belonging 🌈
OVO is committed to promoting diversity and inclusion within the business, and there are so many opportunities to champion this within tech.
DevEx will have an active presence within the internal belonging networks, with a focus on initiatives around diversity in technology.
DevEx will soon be taking over the internal Women In Tech Forum and will be a key part of facilitating initiatives for International Womens Day and celebrating women in technology.

Social Impact 💞
So much of what we do within engagement and belonging adds to our social impact. It is important to give back to the community, and OVO tech is looking forward to future partnerships with organisations such as Code First Girls who are on a mission to bridge the gender gap within tech. We want to make sure that all of our engineers have the opportunity to work with and contribute to these kind of social initiatives, for their own personal career growth and to support others in the wider tech community.
---
Conclusion

If something contributes to the experience of our developers - then we care about it! It is important for me as a Developer Experience Engineer to always be reactive, adapt to changes quickly and to know how our developers think and work.
There are lots of exciting things to come and we can't wait to build something great!
---
Want to chat about all things DevEx? Feel free to reach out to me on LinkedIn!  🚀