This blog aims to focus on the creative benefits of running a Design Sprint, rather than how to run one. While a Design Sprint can provide many valuable outcomes, such as a tested prototype likely to deliver business value, it is the opportunity to give your team space to be more creative that we intend to focus on here. For more information on running a Design Sprint, take a look at the Notes section at the end of this blog.
The problem with constrained creativity
Our team were frustrated; they wanted more opportunities to be creative in their day jobs. Too often they were given solutions to build rather than problems to understand, explore and really get their teeth into. We decided that we needed to change the way we were working and make time to be creative. So how did we make it happen?
Could a Design Sprint enable more creativity?
We had an idea to try a Design Sprint, as created by Google Ventures (GV), to harness the team's creativity and give them a problem to really own and solve in their own way. A Design Sprint would also allow the product team to work more closely with the users of their product, to understand and solve the problems together.
In a nutshell, a Design Sprint enables you to go from fleshing out a problem, creating many solutions and then choosing one concept to prototype and test with real users in under a week. The Design Sprint encourages individual creativity through a series of activities which identify many possible options at each stage, before quickly deciding on the best ones to take forward and build upon.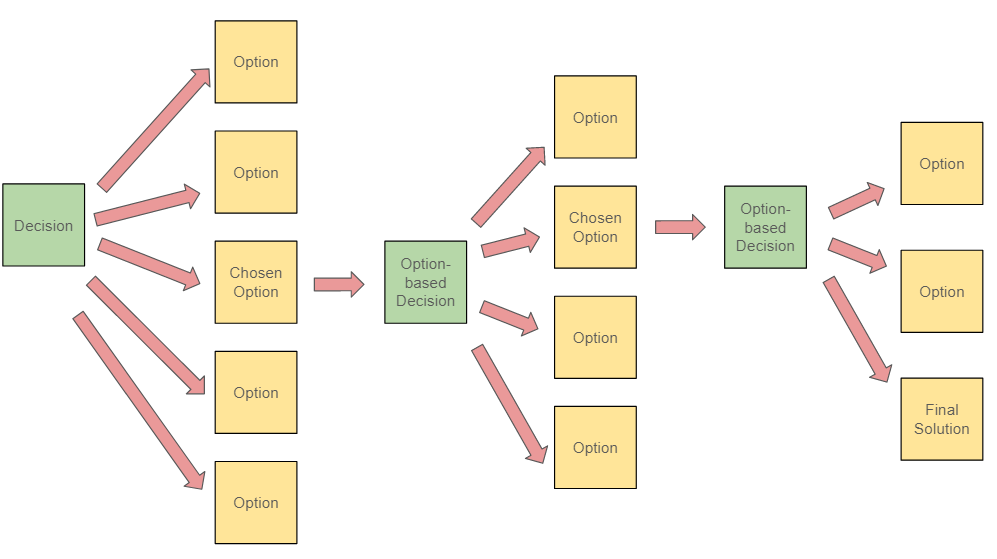 Illustration of repeatedly seeking many options, picking one and building upon it
How the Design Sprint enabled creativity
We found creativity was brought about naturally by activities such as Lightning Demos and the 4 Part Sketch. We were really encouraged to see the team fueled with enthusiasm to create tons of ideas - a blank piece of paper was no longer a daunting task. It was really satisfying to see how creative everyone was able to be, when given the space to think and doodle.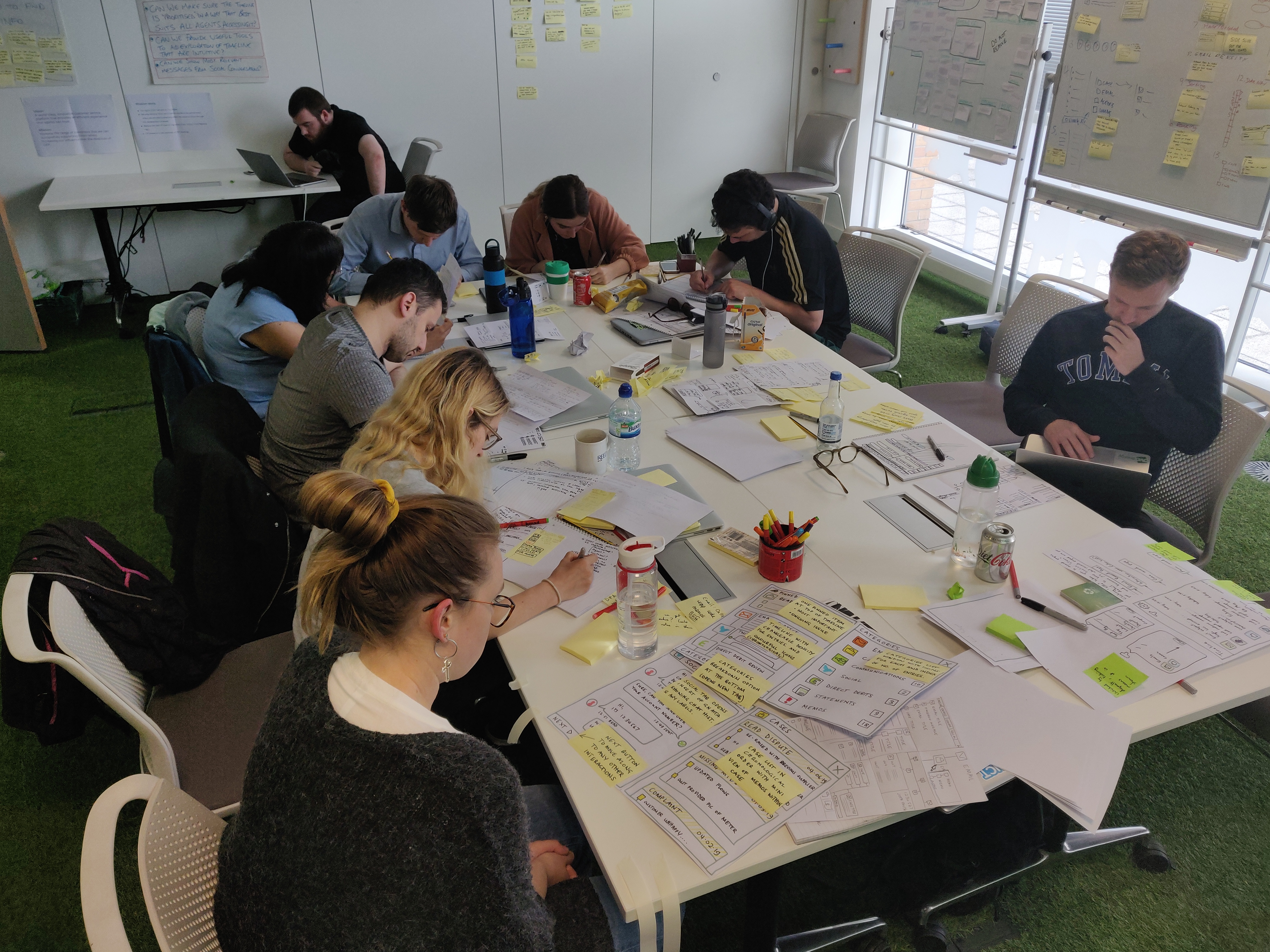 Solution Sketching, Day One
One memorable moment came on the afternoon of the first day as the team were settling down to create their Solution Sketches. We'd come prepared with black Sharpies and paper but it was immediately obvious how much we'd underestimated the creative needs of the team; demands for coloured pens, pencils, rubbers, scissors etc. came thick and fast so we had to scramble around the offices to find more resources.
We had creativity!
By investing 4 days in a Design Sprint the team now had the space to explore creativity in many different ways.
The outcome of day one was a dozen super-creative, colourful and well-thought out designs which made the next day's Art Museum really enjoyable. Most of the designs had some elements that made it into the final solution. We had creativity!
At the end of day 2 we had picked the user journey we wanted to test and storyboarded what each screen would look like or entail. Storyboarding helped the team visualise the journey in sufficient detail that they were ready to dive straight into prototyping the next day.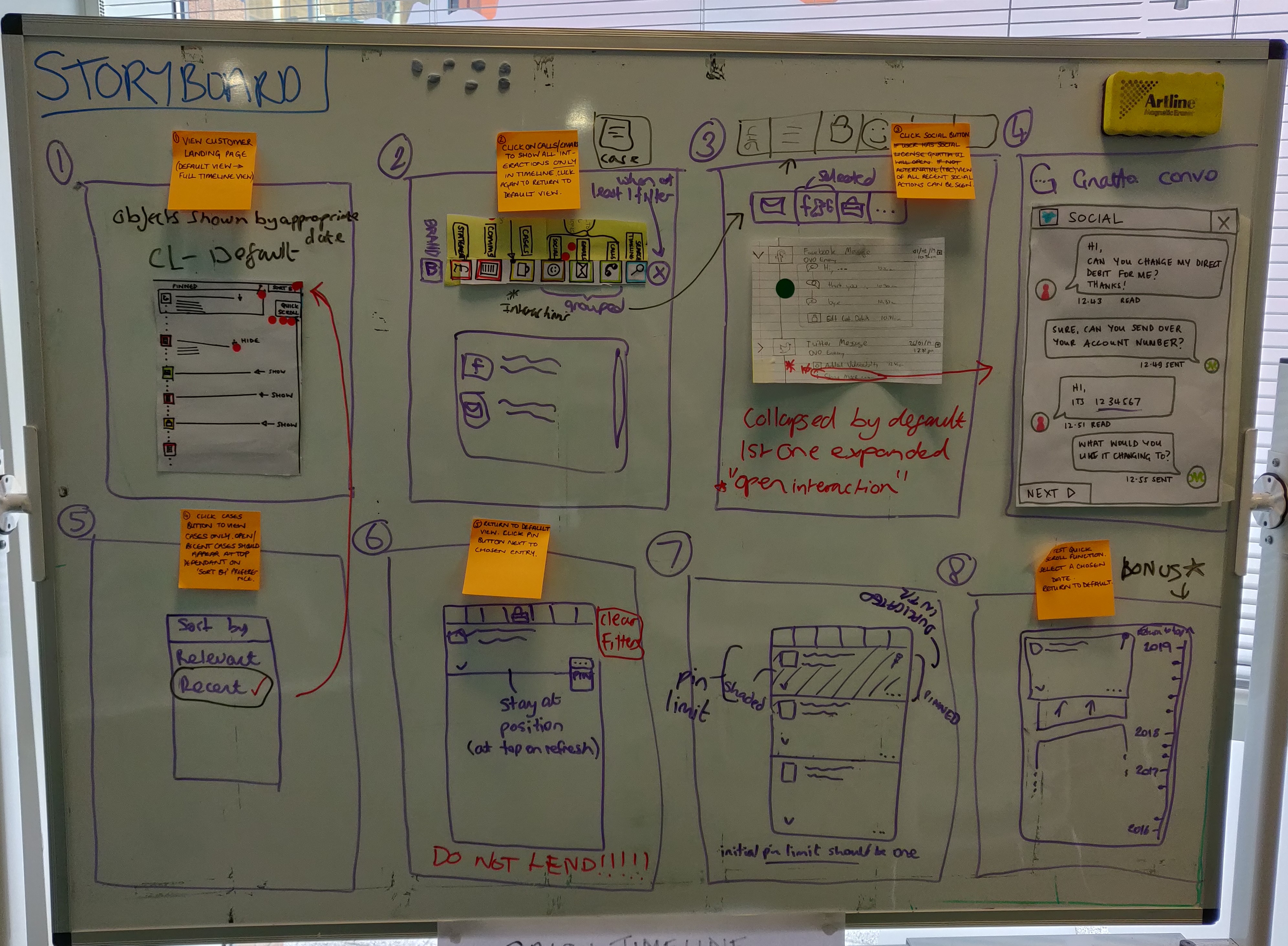 The Storyboard, Day Two
By the end of day 3 we had a high fidelity prototype and an interview script which we trialled with a user, ready for user testing on day 4.
By the end of the fourth day the team had worked their socks off to design and build a working prototype which got great feedback from users and ideas for improvements. The team were exhausted by the end, but the results were clear, we'd met our goal and answered our sprint questions; the amount of creativity exhibited was fantastic to experience and the quality of the team's efforts was brilliant.


The Art Museum, Day Two
We had many great outcomes from the Design Sprint, including:
A tested solution on which to base future iterations;
Saved more than the 4 days invested, simply by not building the wrong thing or unnecessary features;
We're now more able to build something great, which will help our users save considerable time because we harnessed the team's creativity to speed up finding a great solution;
Loads of creativity.
Could a Design Sprint reinvigorate your team's creativity?
If your team longs to be more creative or would benefit from being more engaged with their product, a Design Sprint is a great way to promote ownership, engagement and creativity. We got some great feedback from participants, who expressed how much creative opportunity a Design Sprint enabled as well as their satisfaction from designing, prototyping and testing as a team. Your team could benefit from the renewed passion generated, to find a really good, tested solution to a tricky problem.
Why not give it a go and discover for yourself the power of empowering creativity?
Notes:
Our Design Sprint followed the 4 day Design Sprint 2.0 format, created by AJ&Smart; this was in turn based on GV's original Design Sprint. There are many resources on the web to help, but we found Jake Knapp's SessionLab Planner extremely useful in our preparations.
About the authors:
We are Rebecca Gray (Product Manager) and Al Simons (Agile Coach) and we both work at OVO Energy. This blog is about some of our work supporting a product team, delivering and improving a solution to enable agents to handle interactions from OVO Energy customers.