Hi we're Nina and Gav. We work at OVO in design and product leadership roles. OVO has talked before about the importance of close collaboration between product and engineering, but now it's time to explore how design fits into the equation.
To demystify design leadership and foster a truly collaborative environment, we need a symbiotic relationship between design, product and engineering.
How the Design practice is evolving
The Design practice has come a long way at OVO.
In our early years, research insights were hidden away in unopened emails and slide decks. Design was considered for making things look nice. And copy (the words we use) was an afterthought.
Today, we treat user research as a team sport.
Our designers are integral to the agile delivery process, and using frameworks and systems creates efficiency within the organisation.
These efficiencies allow our designers and researchers to look beyond traditional design problems and apply their expertise to issues that also fall into the product and engineering spaces.
As a result, we've grown from a handful of designers to a diverse community of 60+ designers, researchers and copywriters.
More recently, design has gained a seat at OVO's leadership table, which will strengthen the design, product and engineering partnership.
Design leaders are responsible for providing a clear mission, removing barriers and being ambassadors for the skills their teams bring - they are core to the organisation not separate.
Some typical questions we're regularly asked

"There seems to be a lot of overlap between Design and Product Management? Who does what?"*
 
"But if there is overlap, who's ultimately accountable? Who owns which part?"
 
"If we have a Head of Product, why do we need a Head of Design?"
These questions frame each practice as separate. In reality they're interdependent and cannot be successful without each other.
There are overlaps between the responsibilities of designers, product people and engineers. In order for us to work best together, we need partnership.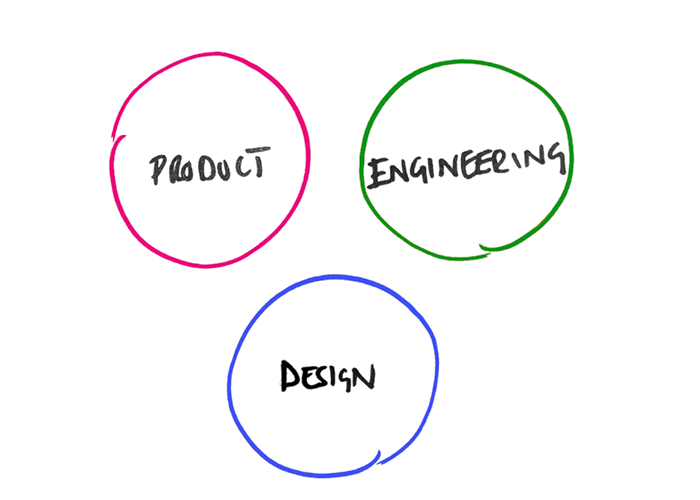 What does true partnership look like?
Ensuring we don't define hard lines is key to each practice reaching its full potential.
We wouldn't tell a Designer they shouldn't be learning to code, nor tell an engineer they can't define research questions.
In fact, we'd actively encourage these things.
When we adopt a both/and approach, instead of an either/or approach, we can embrace both the overlaps and the unique qualities each practice brings to our product development. This encourages people to think beyond their everyday boundaries, and push the limits of what's possible.
"In pursuit of social change you need policy and analysis and smart ideas; but you also need stories and grit and passion and courage"
– Barack Obama
This is what a high-performing team looks like. Everyone starts off closer together, rather than negotiating from different corners. By balancing out our individual biases, we focus our attention on the needs of our customers.
What does it mean for leaders?
"My skillset lies on the leadership side. That's why I love to look for, and grow, great product management talent, rather than doing the hard job of actually being a product manager myself"
– Gav
While we expect designers, product people and engineers to think strategically, the majority of their work will be tactical. As people progress into leadership roles, they will naturally shift towards operational management and strategic work.
This isn't the responsibility of any single practice.
What does good look like?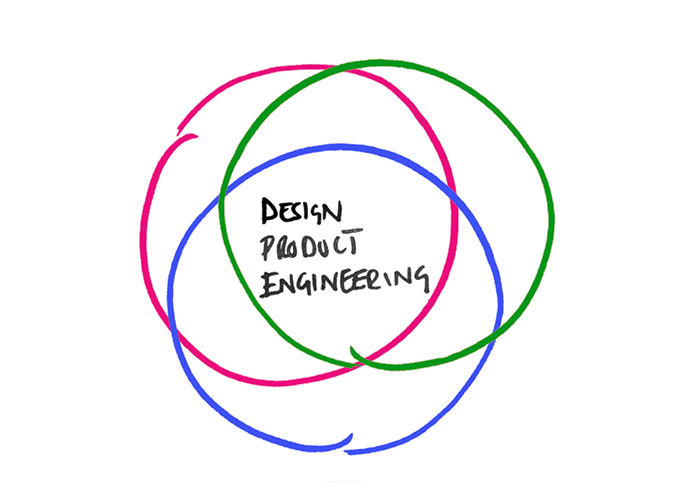 Balance and equity between practices creates mutual respect among colleagues. When people feel included, they perform better.
Psychological safety is key
If we don't trust each other, we'll fail from the start. Include your design, product and engineering partners early when developing new ideas and co-own failure as well as success.

Make time for the learning engine
All teams need to encourage, support and facilitate learning to eventually thrive. Learning is fundamental to growth.
Build meaningful relationships
Be there for each other to explore new ideas or challenges outside of formal meetings, the office, or even work.

One roadmap, one backlog
If you have a backlog for engineering, one for product and one for design... you're reinforcing separation between practices. One roadmap and one backlog drives the right conversations, brings your expertise together and removes siloed ownership.

North Star
Every decision needs to be assessed and measured against its contribution to the product vision. Work together to build your North Star.
Practical steps
Actions we can take to support these partnerships:
Identify the Lead for every team, squad and area within design, product and engineering.
Ensure the Design Lead is brought into the same discussions as the product and engineering leads. This includes creating or updating the product vision and strategy.
Get the Design Lead to shape OKRs with the rest of the team.
Involve the whole team in design and research. And use this to inform the roadmap, as well as being a part of it.
Include items that contribute towards our learning and understanding of creating a successful product in the roadmap and backlog.
Next time you're trying to solve a problem, we'd encourage you to ask; What if I invited a different point of view? How might things be better?

Nina and Gav.
Useful links
User Research as a team sport
Brené with President Barack Obama on Leadership, Family and Service
Platform Design Toolkit