Picture this, you are sitting on your sofa on a Sunday morning cup of coffee in hand, lazily flicking through the Guardian (or Sunday broadsheets, tabloids - whatever takes your fancy 😉).
You turn the page, your eyes are drawn to  coloured figures and a speech bubble, you immediately know what it is: a comic. You can't help yourself but read it, because  comics attract attention. Maybe they even put a smile on your face, making your Sunday just a little bit better.
Let me tell you about how I use comics in my work as a researcher and let me share my latest work with you.
Using comics in User Experience
I first saw comics being used as part of a research project by Bonny Colville-Hyde, a Bristol based Product and UX architect. The idea is quite obvious - If I put a spreadsheet, a complex diagram or a comic in front of you, which one would you be more attracted by?
Comics in UX have the advantage of enticing people from all parts of the organisation. They often reach people beyond the immediate project team, because they are a compelling artefact that people want to read.
I have been using comics for the last couple of years to help get my point across. Often I can't publish them as they are under NDA but you can see a few of them on some of my article on my Medium Page.
Keeping it funny
A lot of the User Experience comics that I see tend to be a representation of reality in a more succinct and simple way. I get why it's done that way but I believe in keeping an element of fun and light heartedness as that's the spirit of a comic - to get a smile.
Using comics to tell the story of joining a new supplier
I know what you are thinking - just give us a comic lady! Wait I am getting to it.
Back in November Ben, one of our teammates and researcher, posted on our UX Slack chat his experience of moving house and changing energy suppliers. I immediately read all about it because I work in the Field Force team and we are responsible for getting smart meters installed all over the country. Being  a researcher in the team I am always interested in user's feedback and Ben's experience seems to highlight issues that I certainly wasn't aware of.
I saw that his journey had lots of scattered pain points that will involve different teams. I started to look into addressing some of the issues that he raised and I started to ask around my team that put me in touch with other teams that told me to ask another team 🤨.
I thought to myself, this is the perfect candidate for a comic because:
It's a quite long journey with lots of interaction points, it can't be easily summarised in a Slack post
The pain points raised by Ben involve lots of different departments and teams
I don't know exactly who might be interested in some of the paint points and who can do anything about them (especially since I haven't been at Ovo for very long)
I can raise the pain points in situ and highlights points of conversation for teams to pick up
So for all these reasons: "Ben and the smart meter adventures" was born.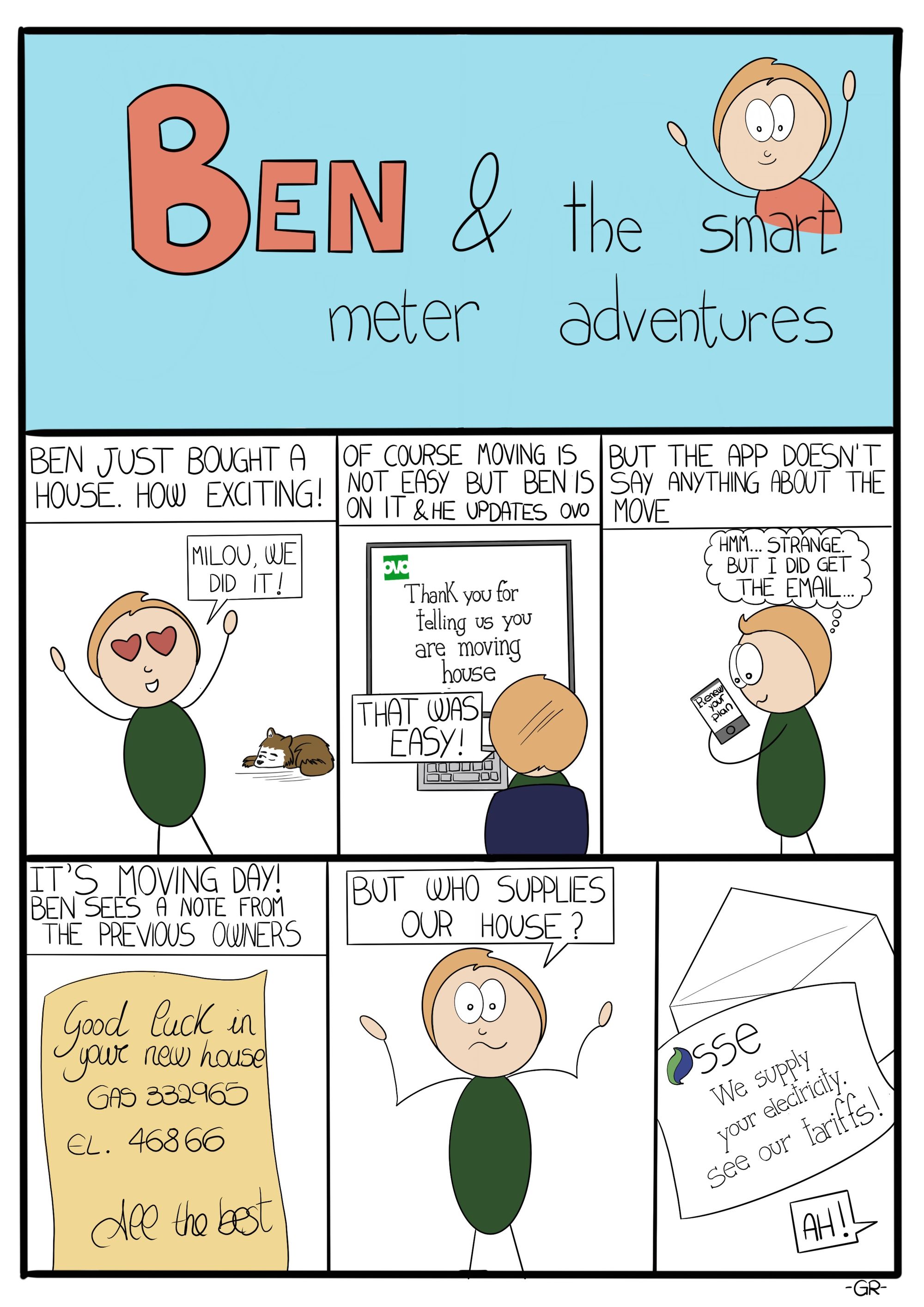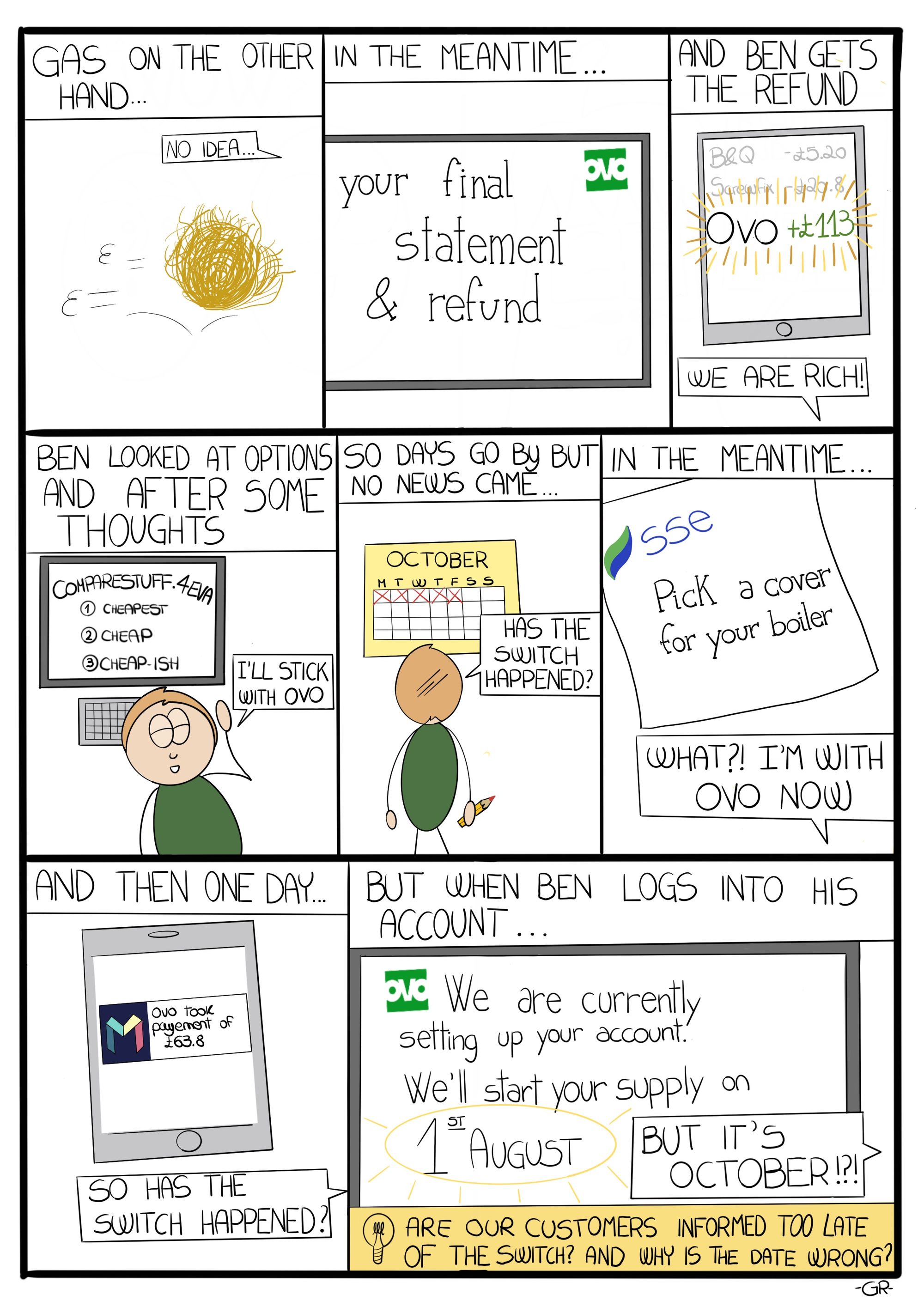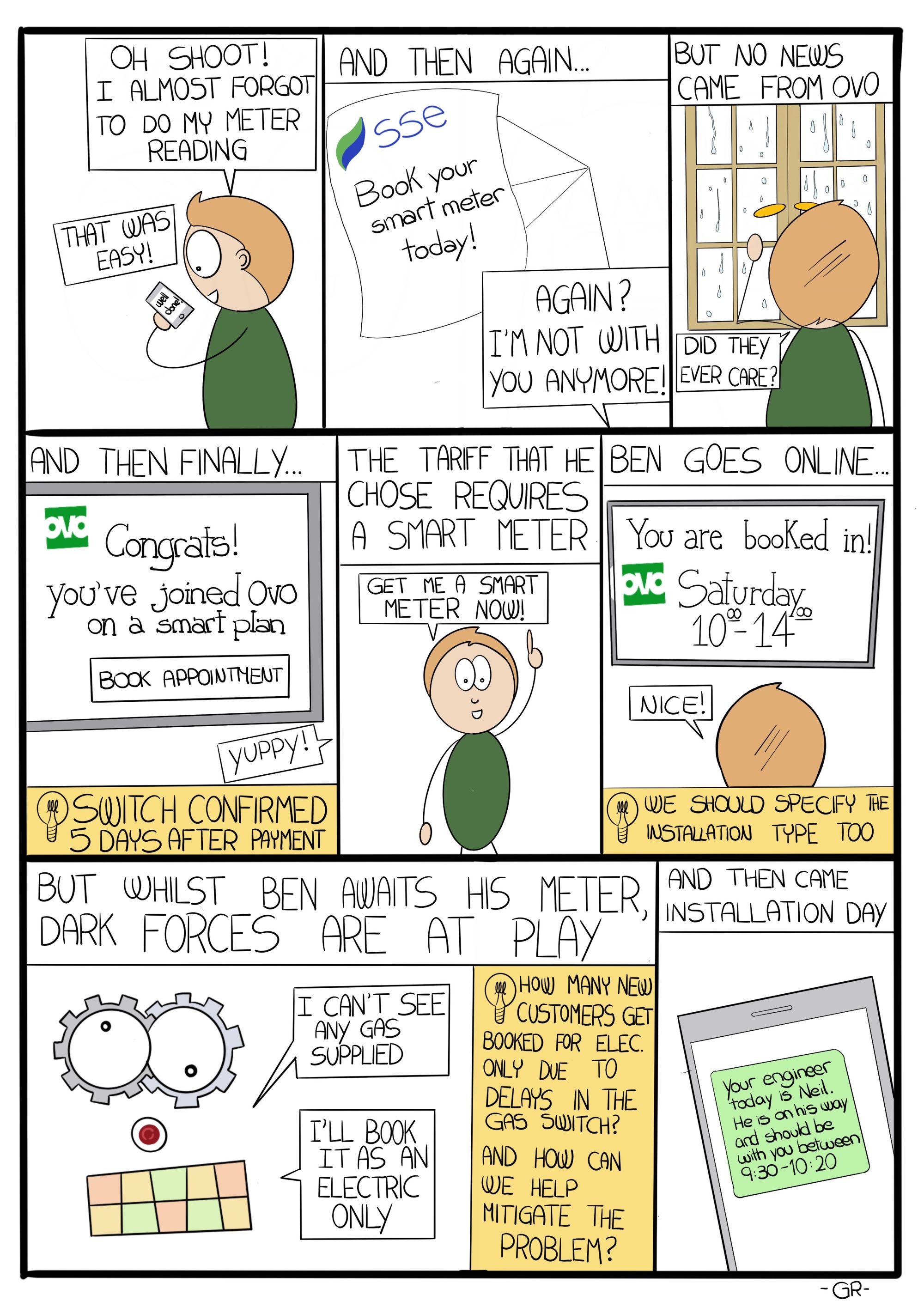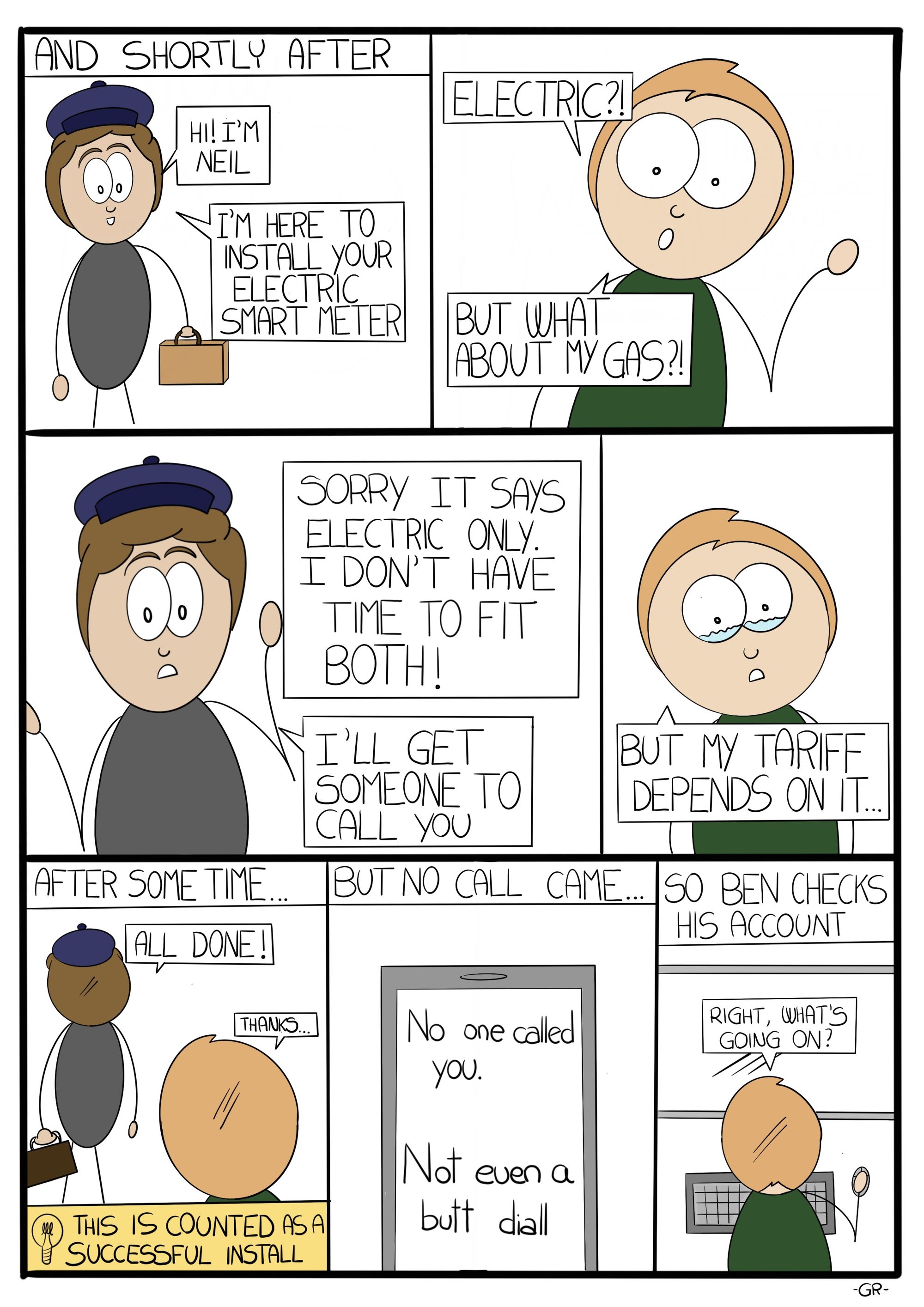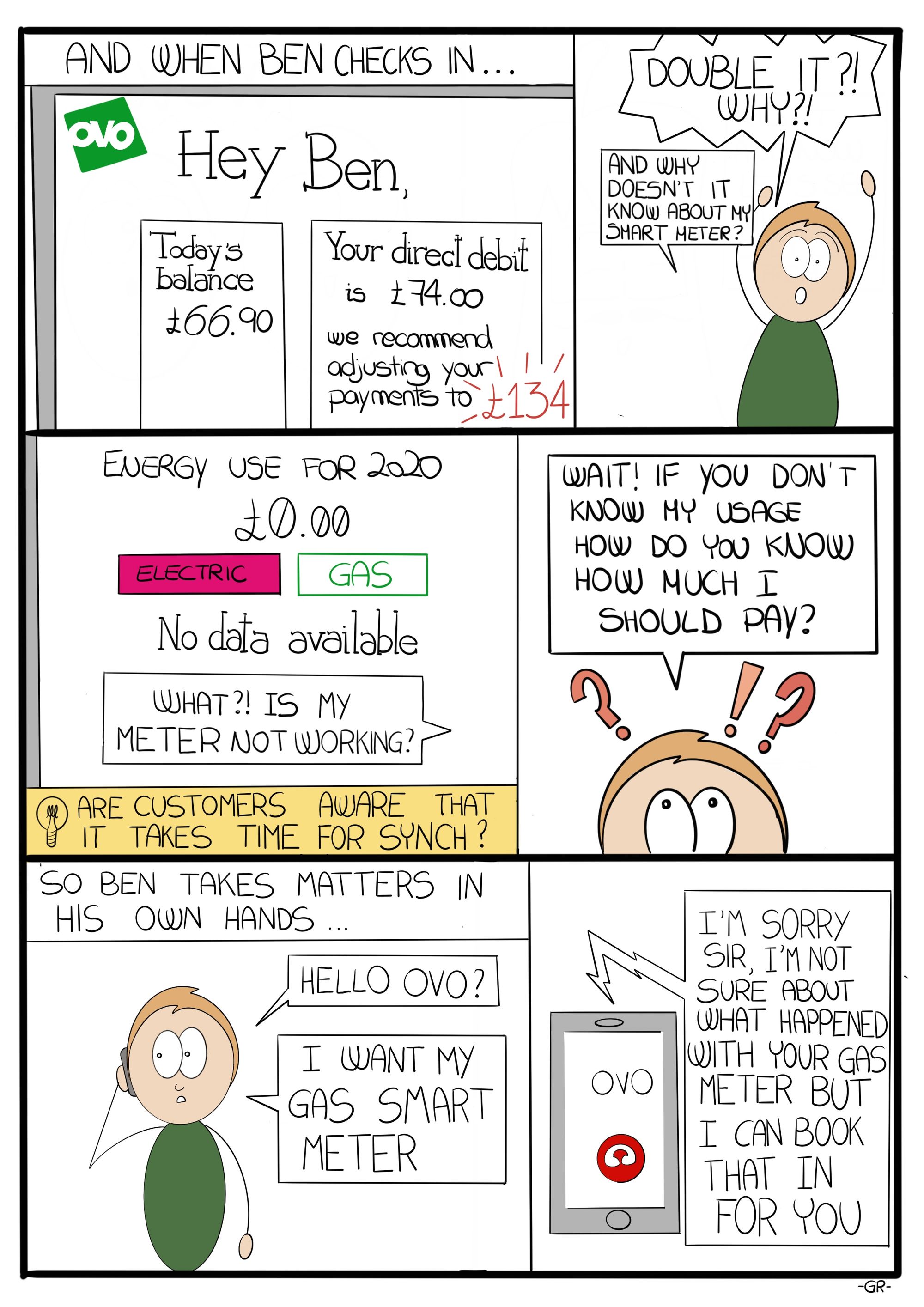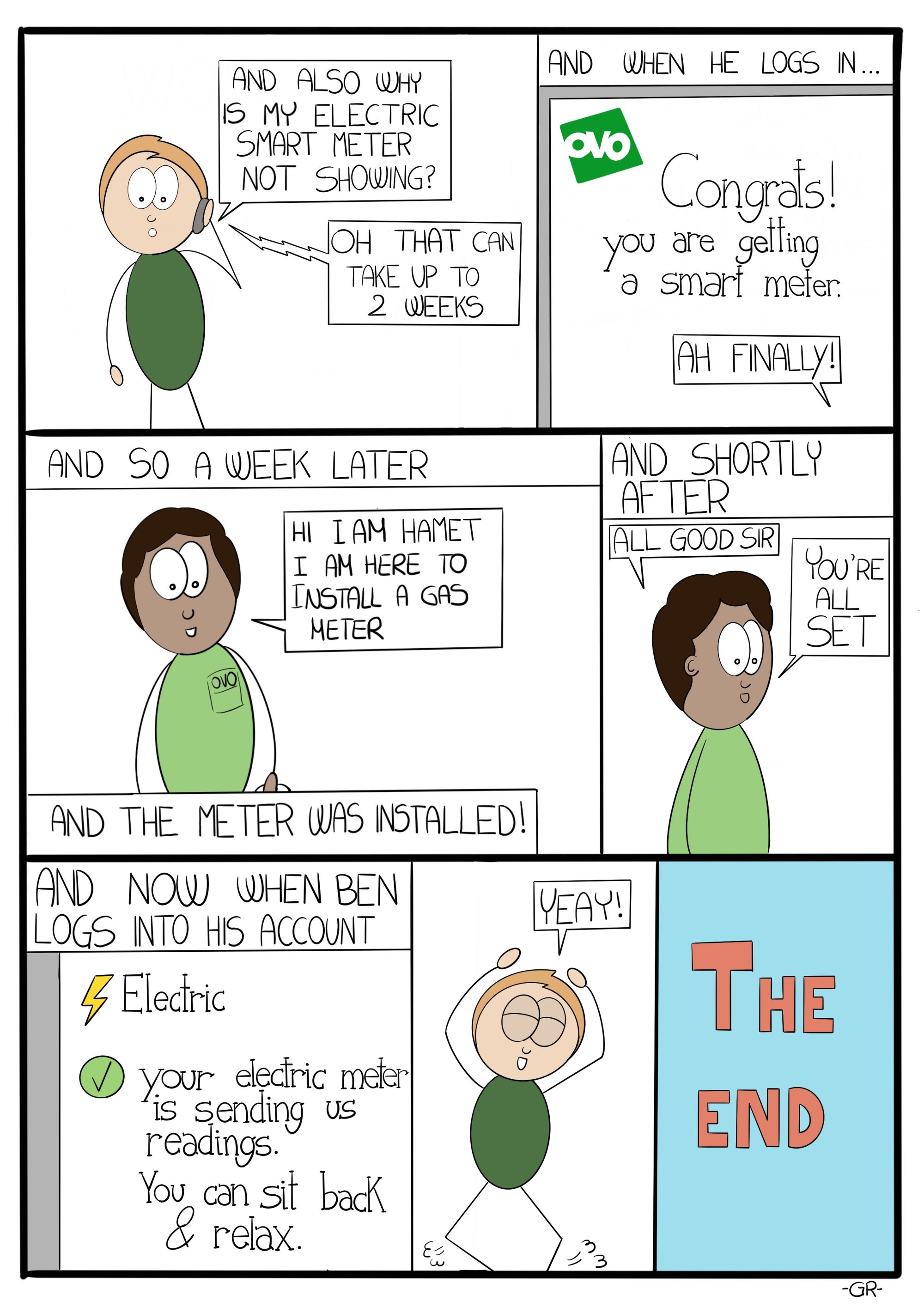 I hope that you enjoyed the comic and that it gave you some inspiration to maybe try one out yourself.
"But I can't draw" I hear you say.
Yes you can, I answer you. First of all I am not exactly Michelangelo as you can see yourself. You can literally draw stick men, sometimes you don't even need expressions and it will still help you getting your point across.
If you are really against drawing I would encourage you to ask around in your team, maybe someone has some basic drawings skills and they are up to help. Otherwise, there are also tools available out there so that you don't need to draw anything at all like this keynote document for example.
So give it a go and let me know how you get on.
If you want to get in touch about comics or UX things, please do.